Trinity: My name's Trinity.
Neo: *The* Trinity? Who cracked the IRS d-base?
Trinity: That was a long time ago.
Neo: Jesus...
Trinity: What?
Neo: I just thought... you were a guy.
Trinity: Most guys do.
BR in the spoiler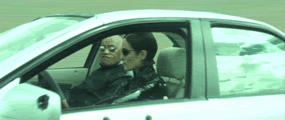 Trinity: Neo... nobody has ever done this before.
Neo: I know. That's why it's going to work.
The Matrix is a system, Neo. That system is our enemy. But when you're inside, you look around, what do you see? Businessmen, teachers, lawyers, carpenters. The very minds of the people we are trying to save. But until we do, these people are still a part of that system and that makes them our enemy. You have to understand, most of these people are not ready to be unplugged. And many of them are so inert, so hopelessly dependent on the system that they will fight to protect it.
Morpheus: If you are not one of us, you are one of them.
-------------------------------------------------------------------------
Cypher: All I do is what he tells me to do. If I had to choose between that and the Matrix, I'd choose the Matrix.
Trinity: The Matrix isn't real!
Cypher: I disagree, Trinity. I think that the Matrix can be more real than this world. All I do is pull a plug here, but there . . . you have to watch Apoc die.
and this BR is Dedication to Jens from SRB