Today is Wednesday. The war for the most part is over. Here's a breakdown of it's final day.
First off I guess we'll start with Props going out to CAE. You guys as an alliance played as a team, and even through a ton of adversity, and the loss of key players, you held it together and repelled 2 major armies that were at your doorstep.
I have been there myself, when I led BoP and other than myself until now, have i seen it done so effectively. You remembered what is important, you gave up the relics and defend yourselves. You all should be proud.
I left off Tuesday morning in yesterdays post. Let's recap a bit.
We attacked one of the relics first thing Tuesday morning. That attack went well and quickly allowed us to secure the other relic.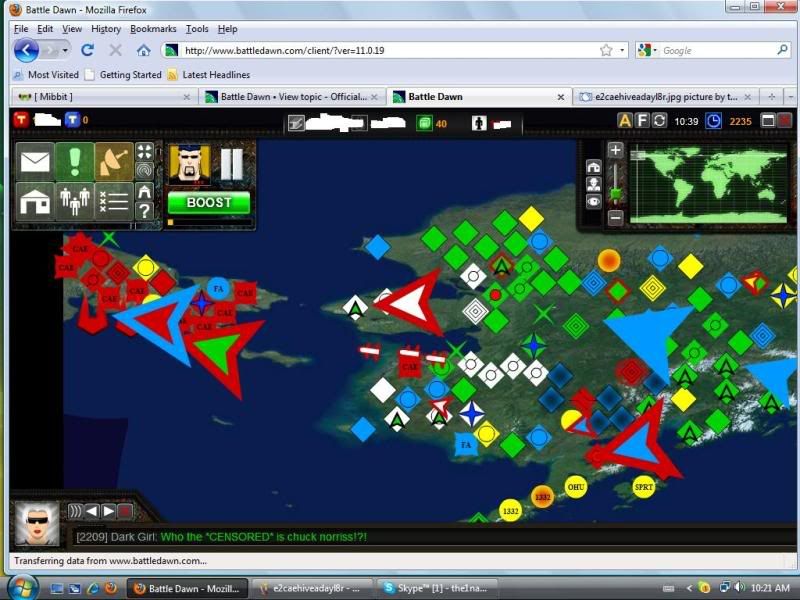 in this next pic, you can see that we have the first relic and are taking the second. Also an attack was launched on Mree's colony.
Finally this is the major assault the allied units had apon the CAE colonies.
I want you all to note that we had over 130 squads and the allied army was 144 squads strong i believe. That should give you a bit of the scale involved in this attack. (i got a little carried away on the paint

it was 1 am here and i was half dead when editing this)
Cae did an impressive job of rushing units after they repelled the NEW attack and were able to re enforce Mree's colony with about 128 squads.
We figured about 100k metal was given for the battle, and we figured armor units were rushed, but it wasn't worth the risk to gamble, so we turned back to the relics and are currently leaving the area.
This concludes the CAE /SAGE UD war. Feel free to sound off your personal experiences you have or any good pics that you might have in your archives.