signlord wrote:
Lol.. Either u guys r playing dumb or really going full *CENSORED*.. The point is every1 loses op.. We had anti inf spam in all ops but that guy sent tanks to spam us.. And we were getting back those ops.. But SOLD stole it the very tick n send more squads than us.. In one op I sent 1 squad to get it back n JasonS sent 3 full squads.. So I sent the msg 2 Jason to turn back or face war..
I don't attack without warning.. N I was discussing the possibility of attack ith SOLD but some1 from one of the allies (I know who) leaked the info.. N SOLD caught us offguard.
Alternatively we are experienced players who have higher standards than teams who lose enough outposts to care about. With all due respect, if you believe putting an anti inf spam on every OP will shield it without the need to scan or reinforce further, then I am not surprised you lose ops.
Defend your ops. Sniping can be a cause of war if you have evidence - but once an OP goes yellow, it's fair game. No ones property at that point.
Please refrain from calling players names as an alternative to a proper argumentation, it contributes nothing to the discussion.
When I hear that another alliance is rallying allies to attack me - I attack too. I would be very disappointed in Edi if he hadn't. When someones going to strike first, it better be me.
And trying to play to get another alliance to a lower rank, if I may add, is a bit disappointing. If you can't take someones place, no reason to kill them.
signlord wrote:
The BR of 339 SOLD squad v/s around 250 from us.. Again activity cost us as 2 guys couldn't join in and was 1 tick late.. Yet 2 get BR of the 2nd wave of attack..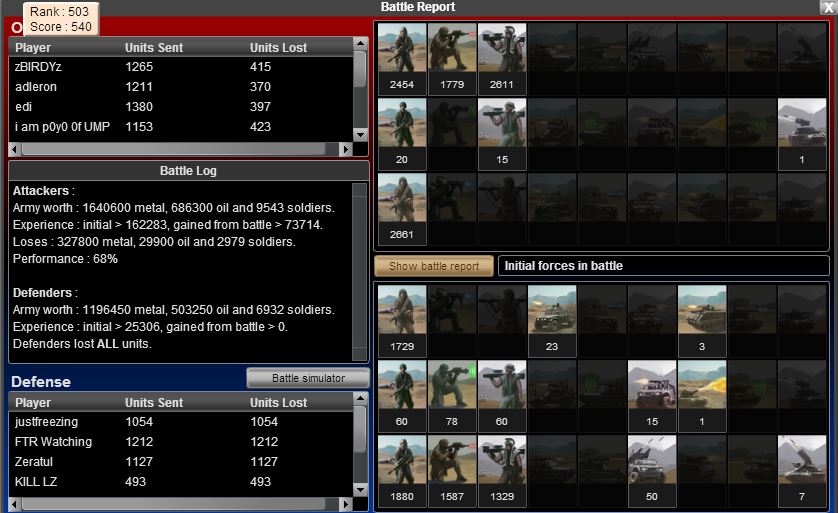 Nice battle. Consider building more armour though, in the future. Really helps in the bigger ones. Especially when you're also featuring damage.