and here I encountered the infamous mech with two swords. I swear, he was lvl 21 with around 440 hp, a classical example in underthinking a mech build. effective range - 1.
snagit
he did an awful lot of jumping, but made the fatal error of having both of his swords (are these rare?) being energy consuming, thus, without his energy, he could no longer use them. this brought about his tragic demise.
(edited)
----------
I will from now on edit my posts instead of double-posting.
----------
Here we have an interesting build.
take a screenshot
It is barely visible, but this 21 lvl player has outfitted his mech with 2 weapons. one of them is the sword, for close range combat. the other is a rocket launcher, which is for fighting long-range. nothing wrong with that. HOWEVER HE HAS NO ROCKET CAPACITY, meaning that he's got exactly one weapon, effective range 1, as the previous one. luckily, Miguel has a lot of hitpoints, and he's going to need them.
----------
how is it posibble to succeed against a mech 6 levels up? not a chance. not cool that I even get paired up with a rare mech with rare stuff 6 levels up? while we're at moaning about stuff


screenshot pc
edited: just fought mexicolindo, he was 7 lvls above me
not cool
----------
great matchup today vs cloud
we went 1 for 1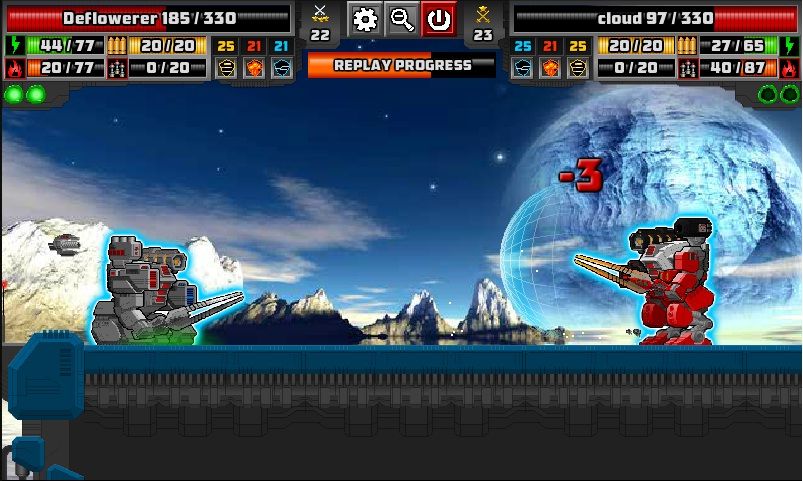 now cloud, I have respect for him, he's a mean mech who constantly surprises. the lesson for today would be to build, fight & prevail.
----------
Kitsune here has an interesting mech. Two swords, one for heat and the other for energy hits. One mid range and another long range weapon. It seems that he has his bases covered.
There was however a slight weakness in his build, namely the low energy capacity. Although Kitsune can be dangerous up close, this chink in his armor proved to be his undoing.
-----------
As you can clearly see, this mech player has chosen his weapons wisely. All high damage, all distances covered, all heat generating - and he's got heat too. I'd say that this is a good player, but his mech structure is lower in level and he suffered the consequences.
On another note, I got beat a bunch of times today. People are wising up to the Lucifer, which sounds like a bad thing, and it just might be. Shoutout to Pit. gg
------------
This was an interesting matchup, caught in the moment of brief respite after samurai86 unloaded his best weapons on me (sword and stomp). At this level, though, a sword deals a lot of damage and he made a tactical error having decided to stick around. Having two swords is an idea I picked up from a better player. When you're lower in level, it's redundant to have 2. However at higher levels things get really interesting, so save that money guys!!!1 God knows I am
-------------
Update: finaly managed to beat BattleSepp, a very difficult opponent.
As you can see, he's got a great build with few weakneses. In the end, the hitpoints made the difference. Here's another example with the exact same builds, only I lost.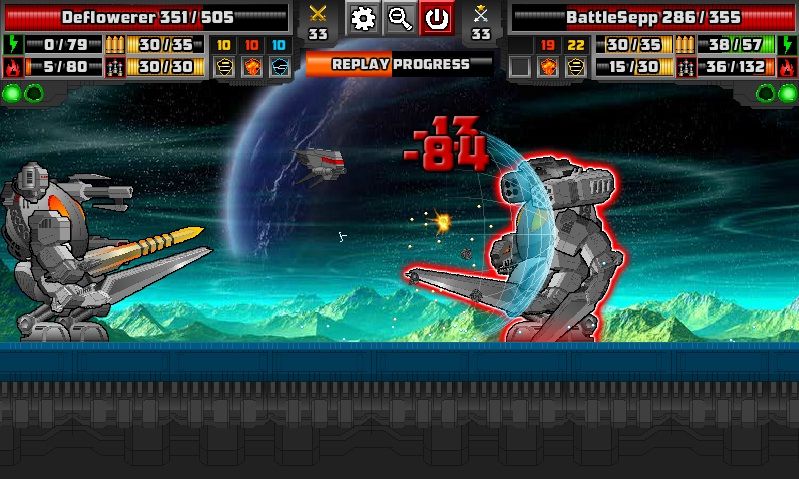 See if you can spot what made the difference!

------------
How is this fair? I get paired seven levels above mine, he always starts first and has the best weapons FOR HIS LVL. Look at that. The Deflowerer trembles.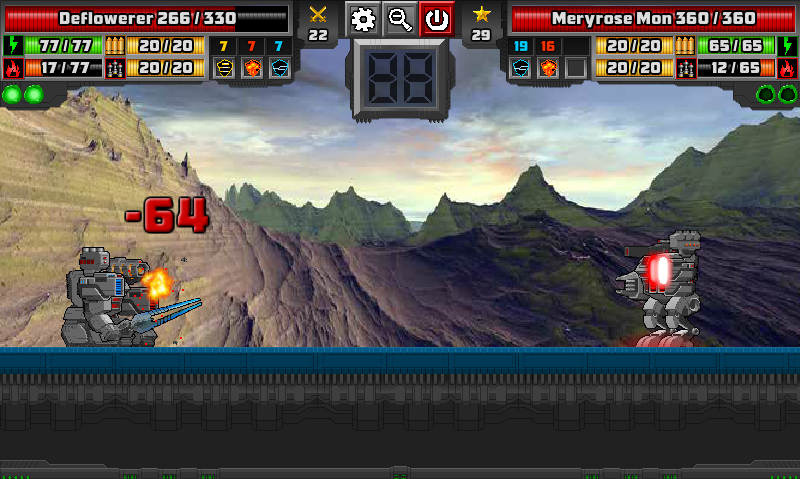 Now I know we're short on players, but this is no way to match people up damit


I could't even explot his lack of short range weapons, the rest of it deals too much damage.
------------
Nerixnmerixn has long been getting the better of me. In one round, however, I managed to get the sweet taste of revenge.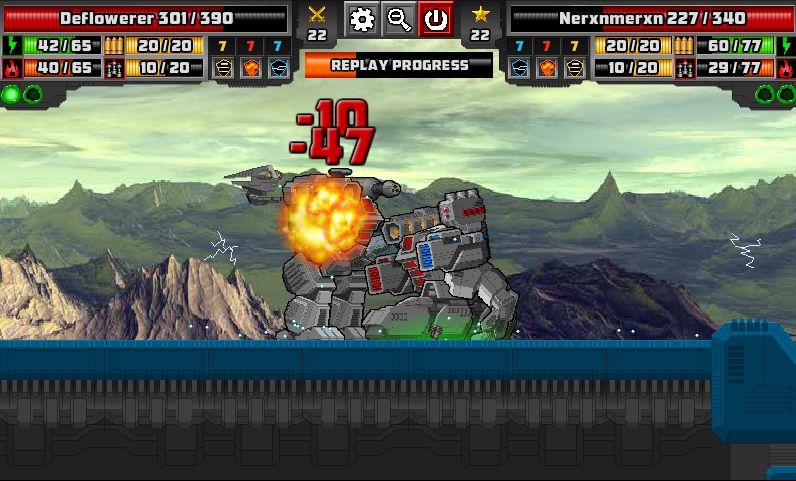 Got to give props though, the guy is a killer!
------------
saw that khalia was online and invited him for a quick match. he arrived in a Gladiator decked with 2 swords and a rocket launcher, and a bit of an advantage in HP and resistance as well. my plan to overheat the enemy mech failed, for obvious reasons.
sometimes, less is more. gg

------------
had to share this wild build with you all.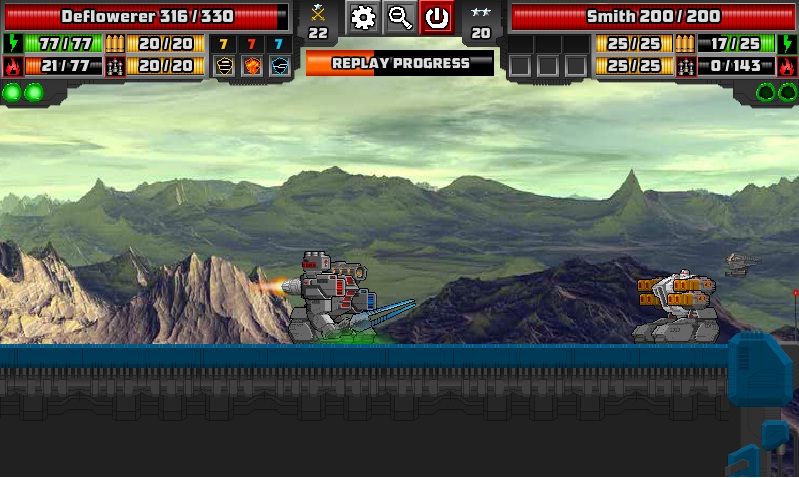 this dude has 4 weapons, all of them the same. lots of heat, as his plan (I presume) is to overheat the enemy and then stomp him into submission. but since all 4 weapons are hotshots, he has a range of 2-3, plus 1 for stomping. even his drone is designed for overheating the opponent, unfortunately it runs on energy which Smith was low on. this is not good. add to that the fact that he has to move (thus wasting a turn) every time the enemy is not in the 3 range. shoddy, shoddy build.
my props to Optimus Prime. u win today my friend

----------
I cannot for the life of me understand players who keep using the Threetop well into the late 20 levels. Now Soldier around 20, that I can get. I've seen some mean builds on him. High HP, all the resists, you know the type. But Threetop is useless later on. What, you couldn't save up for 8 levels to buy a 90K Soldier? Cmon now, quit fronting. Threetop's got exactly 100 HP, 190 max, and if it's got that, it doesn't have anything else. It's a weapon rack, 3-4 turn material. You must build to be able to fight to be able to prevail.
----------
Here is an example for beginners of how not to build your mech.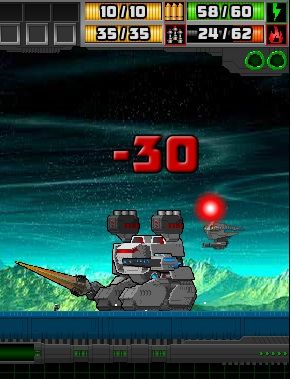 What he's got is rockets. Rockets are fine. But everything else about it is plain wrong. It's only redeeming point is that it looks neat, and I suppose it is neat people that buy the Robot. Look at it, with it's twin rocket launcher. For close combat, it's carrying a Butter Knife, which is a rare item, sadly outmatched, shining there like a testament to the uselesness of the rest of the build. And finally for midrange, he's got the blue thingy, which drains the user for 14 energy and the target for 8. Not too shabby. The legs are fine and the sword too, the rest is target practice. He was at lvl 20.
----------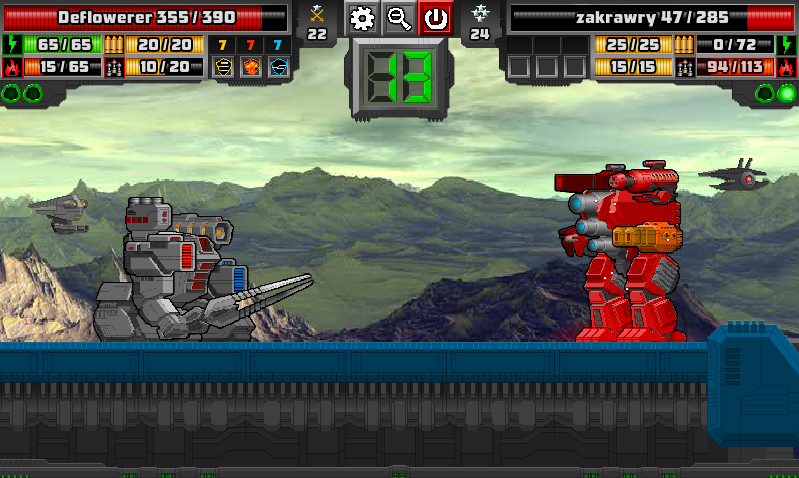 I wasn't exactly breaking a sweat against this heat generating mech, in fact it was all over in the next turn. Love the weapons, hate the rest. Next please.
----------