Yes, you heard me, Final Fantasy 6.
It's a 20 year old game

Intro
In my opinion, Final Fantasy 6 is the best RPG created to date, sure, it's outdated to bits, but if you look to the other games in that time, you will love it like I do

In this thread, I will force you into the same opinion

Let's start glorifying!
Final Fantasy is known to be RPG's with great graphics, in depth story lines and all sugar coated with the music of Nobuo Uematsu, one of the best game composers. If you never heard of Final Fantasy, don't have the guts to call yourself an RPG Fan! It's known for being immensely big, immensely successful (When Halo contains 13 popular games, dare to say Halo is better. Till then, don't even think about it) and for the fact that they all got things in common.
For example, every Final Fantasy got a "Cid" figure. "Cid" usually has something to do with the Airships, the airships are also in every FF to date.
And nearly all Final Fantasies got similar battle themes, and all of them got similar titles:
Generally, with a few exceptions, Final Fantasy 1-6 are "Steampunk" themed which means it's generally in the past, with a few bits of sci-fi technology, styled in.... well... steam. They are all 2D.
FF1-6:
The final fantasies after, wen't for a 3D Cyberpunk (A lot more sci-fi-ish) approach mostly.
FF7-14:
http://ecky39.files.wordpress.com/2008/03/zack.jpg
http://ff10shrine.homestead.com/files/ff10_tidamain.jpg
Now, Final Fantasy 6 is the last, and considered the best, of the first era final fantasies.
The 3 best features of it are:
Character Development
Music
The general story
So let's do em one by one, shall we?
Character Development
Unlike most Final Fantasies, FF6 features
a lot
of characters. With a lot, I don't mean 8. With a lot, I mean over 12... It's the final fantasy with the most Characters.
That, however, doesn't mean Final Fantasy 6 doesn't properly develop every characters, not at all.
The first main character, Terra, would be a general of the empire. She is half-esper, half human, and possesses powerful magic. She isn't, however, a general out of free will. She is enslaved using a slave crown (brain washer, sort of). Throughout the game, she discovers about her being half-esper, espers would be "monsters". She isn't to happy with it. She yearns to discover love, and in the end, finds it in children (lame, I know, I wanted her to get a proper boyfriend...)
The other main characters, include King Edgar and Sabin, who's faith were decided with the flip of a coin, Celes, an imperial General who switches sides, Locke, a thief *(DID I SAY THIEF? TREASURE HUNTER, YES, TREASURE HUNTER!!!!)* who lost his beloved one to the Empire, Cyan, who's family and friends were killed by poison, and many other characters whom I should note but won't bother to.
The main villain, is one of the most interesting villains ever created. His name is Kefka, he's not a little bit crazy, he's nuts. In the beginning, he isn't all that powerful. He runs from fight and is a mere general of the emperor. During the game, however, he kills his emperor and acquires god powers.
In other words, he actually SUCCEEDS in his evil plan. He wants to rule as a god over the world. He's completely insane, and poisoned an entire castle (Cyan's castle) just for the lulz of it. Going against the direct orders of the "good" general, General Leo who want's to end the war without to much bloodshed.
He sets up a trap, and kills all the Espers during peacetalks.
So yes, he is completely insane. In the end, he decides there is no use in life anyways (no BattleDawn there XD) So he just decides to KILL everyone. He already destroyed half of the world, so heck, why not ?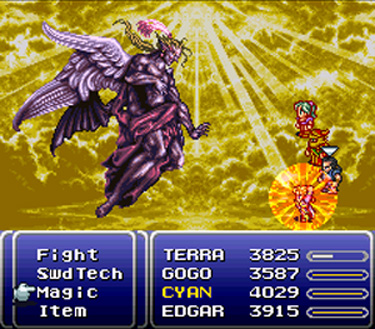 Music
Final Fantasy 6 contain's some of Nobuo Uematsu's best work.
Including Terra's theme, the opera scene-song "Aria Di Mezzo Carraterre" and Dancing Mad, arguably the best battle theme.
There theme's were however made with limited, SNES resources.
So don't judge them on sound quality.
Dancing Mad
Aria Di Mezzo Carraterre
Edgar and Sabin
Locke
Kefka
Terra
All the stuff I forgot due lazyness
Story:
http://www.ffcompendium.com/h/ff6story.shtml
So ehhhm...
Did I get people interested ?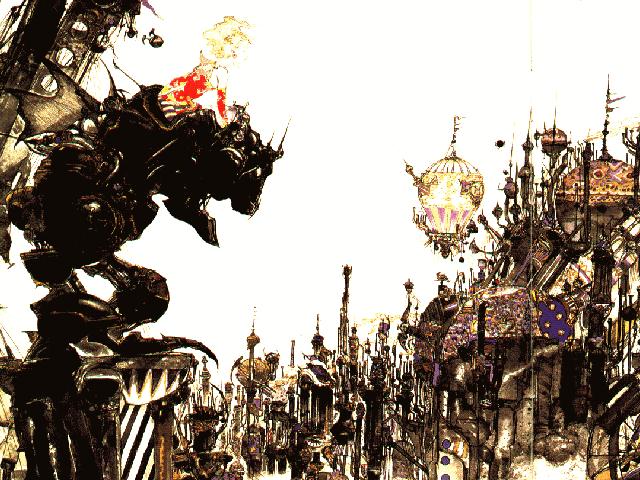 /rant&glorifications