Come here if you want low quality, quick signatures with overly melodramatic quotes made by a really hot guy!

Left forums so no more requests. If you're looking for a sig, may I recommend Darklighter, best sig artist in the forum.

-----------------------------------------------------------
Well, just finished my sig for Haven.

(in use)
And while I'm at it, might as well post my current sig here also.
Also: Ferret's sig

(in use)
Tenk's: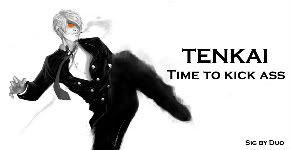 Sig competition entry:
Current:

I would really appreciate critiques on my signatures. Trying to improve, so I need feedback.
Will be accepting requests to make signatures, but with all honesty there are better signature artists. Don't waste your time here.